LE-N Series Applications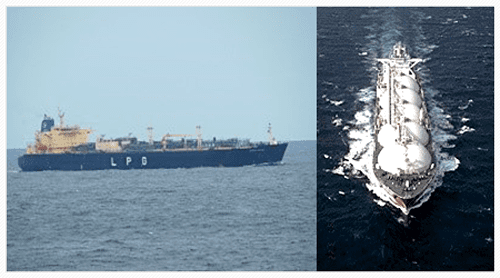 We meet the diverse needs from gas carriers to gas-fueled vessels.
LNG Carriers(Deep Sea / Coastal)
LNG Bunkering Vessels
LNG-Fueled Vessels
LPG Carriers(Deep Sea / Coastal)
LPG-Fueled Vessels
System Features
Accurate measurement of gas from any production area using our unique dielectric constant estimation method.
LNG is made up of methane, ethane, and propane, etc., but the ratio of these gases in LNG varies depending on the region in which the gas is produced. These differences in composition can cause errors in measurements of the liquid level.
Musasino has developed a proprietary dielectric constant estimation method, which uses a unique formula to eliminate the errors caused by differences in composition. Since the calculation is automatic, there is no need to change settings for each loading, making the system easy to use.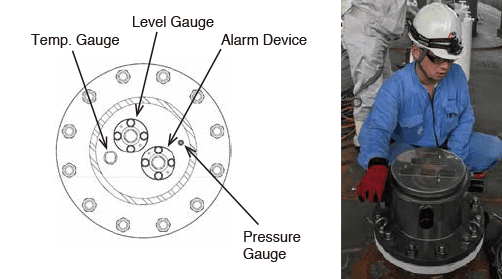 The All-in-One concepts takes advantage of digital signal technology for a smart design and reduced cabling.
Various equipment such as level gauges, alarm devices, pressure gauges, and temperature gauges, are necessary for liquid gas measurements. Musasino's proprietary digital signal processing is applied to unify the signals. One cable is used to send signals to the control box, so the number of cables required for outfitting is reduced.
System Configuration
LE-N3 for CTMS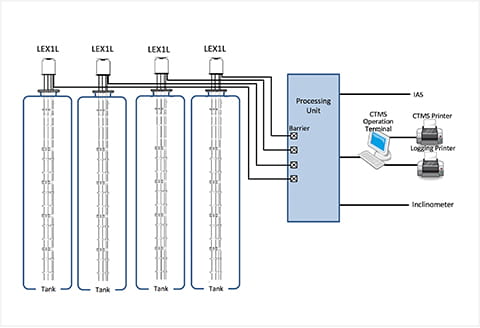 PRIMARY LEVEL GAUGE
| | |
| --- | --- |
| Method | FMCW |
| Range | 0.5~50m |
| Resolution | 1mm |
| Accuracy | ±5mm |
| Ambient Temp | -25~+70℃ |
| Pipe Diameter | 3 inch |
SECONDARY LEVEL GAUGE
| | |
| --- | --- |
| Method | Pulse |
| Range | 0.5~50m |
| Resolution | 1mm |
| Accuracy | ±5mm |
| Ambient Temp | -25~+70℃ |
INDEPENDENT LEVEL ALARM
| | |
| --- | --- |
| Method | FMCW |
| Accuracy | ±5mm |
TEMPERATURE GAUGE
Accuracy
±0.2℃(@<-145℃)
±1.5℃(@<-145℃)
PRESSURE GAUGE
Accuracy
±0.3kPa(±0.5%)
(80kPa~140kPa)
INCLINOMETER
Accuracy
List <±0.05℃
Trim <±50mm
LE-N1 for LNG / LPG-Fueled Vessels and Bunkering Vessels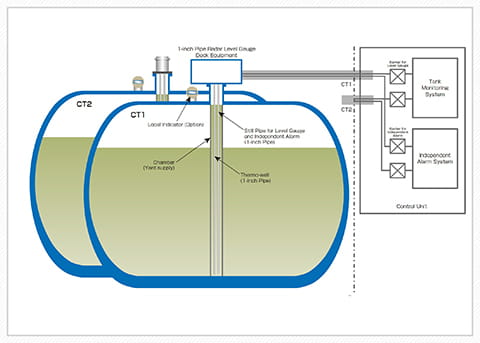 LEVEL GAUGE
| | |
| --- | --- |
| Method | FMCW |
| Range | 0.5~20m |
| Resolution | 1mm |
| Accuracy | ±10mm |
| Ambient Temp | -25~+70℃ |
| Pipe Diameter | 1 inch |
INDEPENDENT LEVEL ALARM
| | |
| --- | --- |
| Method | FMCW |
| Accuracy | ±5mm |
TEMPERATURE GAUGE
Accuracy
±0.2℃(@<-145℃)
±1.5℃(@<-145℃)
PRESSURE GAUGE
Related Equipment
System Products