Product Features
Easily take level measurements without specialized skills
Level Cera Portable is the world's first portable level gauge for bunker and ballast tanks. This easy-to-use level gauge continually monitors the liquid level during bunkering, and contributes to the prevention of overflows with fewer man-hours than when only a sounding tape is used.
When using sounding tape to take level measurements on a ship, it is necessary to take multiple measurements due to the ship's movements. In addition, it requires performing manual calculations, and specialized skills. When bunkering or ballasting the ship, and the liquid level is moving, the level of difficulty increases.
By contrast, Musasino's Level Cera Portable continually monitors the level, and the average value is automatically calculated and displayed. An accurate level reading is possible without being influenced by factors such as the movement of the ship and changes in the liquid level.
Sounding Tape
Crew Required
2 people
Measuring Skill Required
Required
Measuring Time
8~10 Minutes/Tank
Transmit Level Readings to C.C.R., etc
Radio
Handing Errors from ship Motion
Multiple Repetitions are Needed for an Average Measurement
Display on Monitor
None
Level Cera Portable
Crew Required
1 person
Measuring Skill Required
Not Required
Measuring Time
Real Time / All Tanks
Transmit Level Readings to C.C.R., etc
Automatically Sends Data Wirelessly
Handing Errors from ship Motion
Displays Average from Continuous Measurement
Display on Monitor
Displays All Tanks Simultaneously
Efficient Wireless Architecture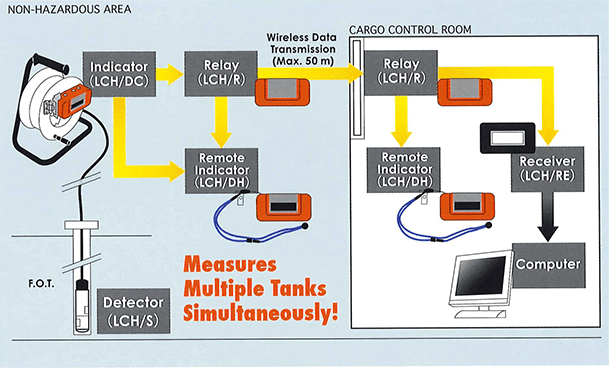 Detecting the Cappuccino Phenomenon Monitoring Fair Bunkering Transactions
In addition to easily taking level measurements, you can also monitor fair bunkering transactions.
The 'cappuccino phenomenon' is when air bubbles are fed in to the fuel during bunkering, inflating apparent volume. But, Level Cera Portable is a pressure-receiving gauge, and so is not influenced by the cappuccino effect, and accurately measures the level. Using a tank table, the exact bunkering capacity can be calculated.
Liquid level measurement is possible in all kinds of scenarios.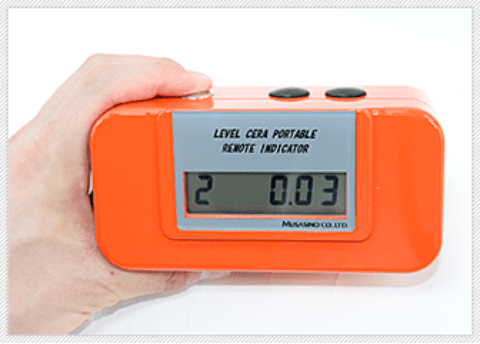 With Level Cera Portable, you can easily find the level. Level readings can be taken in a variety of settings, including checking levels on tanks that do not have fixed level gauging equipment during ship construction.
General Specifications
Vessel Application
Dry Cargo Vessel(for use only in non-hazardous areas)
Measurement Application(s)
Fuel Oil, Diesel Oil, Sea Water, Fresh Water
Measuring Range
0 ~ 30m
Accuracy
±50mm (shop test)
Ambient Temperature
Remote Indicator: -20 ~ 70℃ (-4~158℉)
Detector: 5 ~ 50℃ (41~122℉)
Power Supply
DC 2.4V、Max. 45mA (2 Nickel Hydride Batteries)
Battery Life
Continuous Operation:Approx. 96 hours
Protection Class
Remote Indicator: IP56 Equivalent
Detector: IP68 Equivalent
weight
Remote Indicator:Approx. 400g
Main Body:Approx 4.5kg
Dimensions
Remote Indicator: 15cm widex7cm tallx5cm deep
Main Body: 24cm widex37cm tallx31cm deep