"Smart Assist Ship Ryuto "
Cargo handling centralized remote system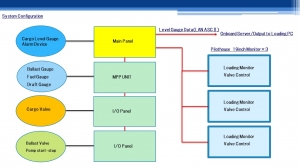 We provided our system of "Smart Assist Ship: Ryuto", to Hongawara Shipyard.
The system remotely operates all of the cargo handling valve, ballast pump, ballast valve, and links all of the gauges related to cargo handling such as draft gauges, tanks' level gauges, loading counters, etc. and then enabling loading control from the control room instead of the conventional on deck work of 3-4 staff.
It minimizes dangerous deck work under extreme weather conditions of heat and cold, and prevents accidents and human errors.
Provided by Musasino Co Ltd [System Configuration Equipment]
Remote control device for cargo handling valve
Remote control device for ballast valve Ballast pump
Bow / stern / central draft meter
Level gauge for all tanks including fresh water and fuel tanks
HONGAWARA SHIP YARD CO., LTD HP >>次世代省力化船スマートアシストシップの試乗会を行いました。 | 本瓦造船株式会社 (hongawara.co.jp)