System Configuration
Measurement Accuracy that Equals Level Master!!!
±15mm at 10m!
Pulse Purge method developed by Musasino. In the testing we have done, the accuracy matches that of our magnetic float type liquid level gauge "Level Master". Currently, accuracy is ±15mm at 10m, with ±30mm at 5m possible with the 1:1 converter LA-WAC. And, we aim for higher accuracy with future testing.
High Accuracy from Musasino "Pulse Purge" : Patented Technology
The pulse purge system which Musasino developed is fundamentally different from the conventional pulse purge system. The use of compressed air is the same, however, the former discharges air intermittently from the SV Units, while the latter purges air at a constant rate. The system temporarily releases a higher pressure compressed air, and stops discharging air during measurement. Doing so eliminates pressure fluctuation within the piping and stabilizes pressure for an accurate level reading. In a conventional pulse purge system, however, there is a constant flow of air, but fluctuations and pressure loss occur, causing errors.(Refer to Graphs Below)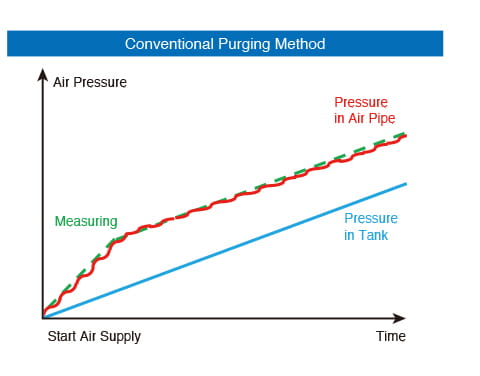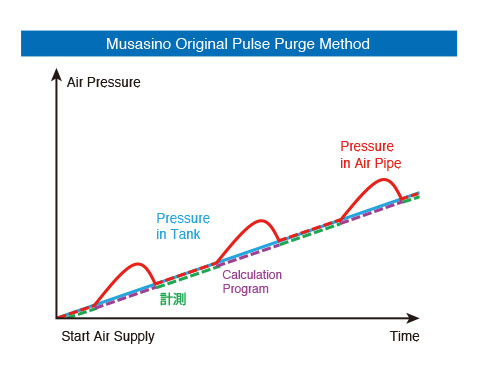 High Accuracy from Self-Adjustment Function
Another function that leads to high accuracy is the Self-Adjustment function. Measurement errors can arise from aging of the pressure sensors, changes in weather and atmospheric pressure, and temperaturechanges, but Musasino's system preforms a zero point correction at regular intervals to eliminate the effects of these factors.(Refer to the Table Below)
Digital Signal Processing for Self-Diagnostics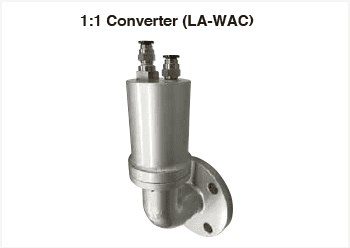 LAX Level Gauge System Core Components「L-Core(for 16 tanks)」
In the rare case of an air pipe leak with the ingress alarm, the digital signal processing allows for a self-diagnosis, which identifies which tank has the problem, and alerts the operator. Further, the construction of the system ensures that the problem does not affect other tanks.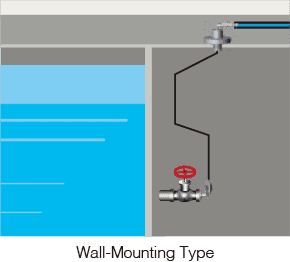 Outfitting Image
There are two types - a wall-mounting type and submersible type - which are designed not to discharge air into the tank. this is effective in preventing pollution of fresh water tanks, and preventing breeding of marine micro-organisms in ballast tanks.
Applied Tank
■ Fresh Water/Drinking Water Tank
■ LO Tank in E/R
■ Settling Tank in E/R
■ Storage Tank in E/R
■ Service Tank in E/R
General Specifications
Specifications(for 16 Tanks)
Dimensions
H:915mm、W:508mm
*Height varies depending on number of tanks
Weight
Approx. 29kg
Ambient Temp. Range
0℃〜55℃
Air Supply Press.
0.5〜0.93MPa
Working Press.
0.45MPa
Protection Class
IP44
Example Application
High accuracy that directly connects to a loading computer, and can be used for loading plans.
Various applications ranging from liquid level measurement on various types of tanks to ingress alarms.
From the tanks in the engine room to ballast tanks and ingress alarms, LAX can cover the entire ship from one L-Core, containing SV Units, power supply and transmitter box, and air supply unit. It is possible to build a flexible level gauge system that meets diverse market needs from eight tanks to a maximum of 64 tanks.
1. Engine Control Room Set
From FO/DO tanks exceeding 20 meters to tanks of a few meters, LAX takes measurements of tanks related to the engines.
Applied Tanks: FO Tanks, DO Tanks, LO Tanks, Storage Tanks, Settling Tanks, Bilge Alarm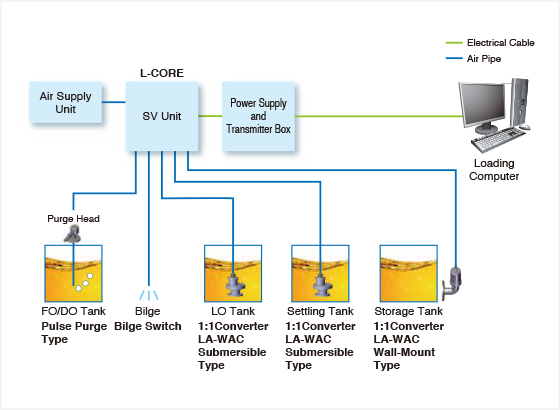 2. Hull Control Set
Covers all level gauges related to hull control
・Ballast Tanks
・Draft Gauges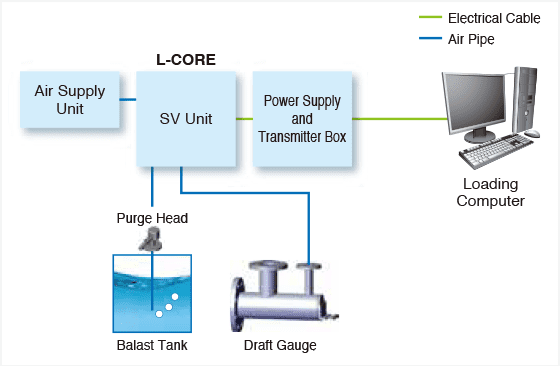 3. Flood Alarm Set
・Ingress Alarm Device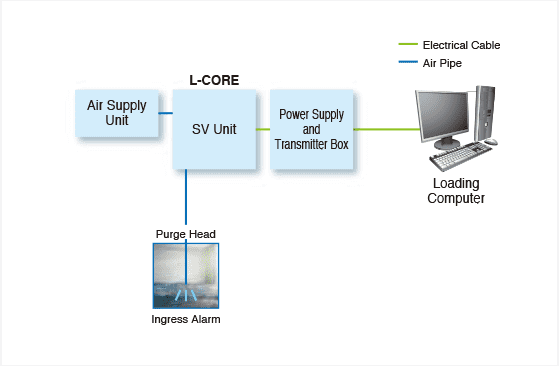 *Each set can becombined
Related Equipment
System Products
Sensors