Completion of First Cargo Operation for LNG Radar Type Level Gauge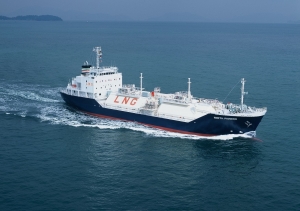 The domestic LNG carrier North Pioneer (Hull No. 1571) successfully completed its first cargo operation with Musasino's radar type liquid level gauge system.
The ship was retrofit from a third party float type level gauging system with Musasino's radar type level gauge.
The system was delivered in September, 2019, and the first cargo operation with the new system was completed in October.
In 2011, Musasino embarked on the in-house development of radar type level gauges for LNG. Following testing on an LNG carrier which began in 2017, this year marks the first delivery and commercial cargo operation of the system.
As LNG fuel becomes more important as an environmental measure, Musasino will continue providing the only radar type level gauge for LNG made in Japan, for use with confidence on LNG carriers, LNG bunkering vessels, and on LNG fuel tanks.